Flowers in the Attic, is also a movie, made in 1986 ... it's portrayal in raw and true ... and movie feat during the 80's to say the least ...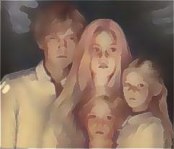 The Dresden Dolls
Flowers in the Attic
Cathy Dollanganger thought she had a perfect life -- until the day the shocking news of her father's death came...
The promise of a new tomorrow helped ease the pain of what The Dresden Dolls (Cathy, Chris, Carrie, and Cory) knew was waiting ahead for them at Foxworth Hall. The family they had never known would now take the form of something evil...
Not knowing what to do or where to turn, their hope and faith in their mother's love kept them going.
But Cathy knew that she would learn the secrets to why they must be kept hidden away from the world. She knew that one day, she too would get her revenge on the woman she called Mother...

Petals on the Wind
After the loss of Cory, Cathy, Chris, and Carrie looked for a future without their brother. They were free at last from the grip of their Grandmother and Mother. Only the kindness of one man could help them look towards a better life.
Finally, they had become a real family again, but Cathy would never really forget... In and out of relationships, Cathy knew there was something she needed to do once and for all. She wanted her Grandmother and Mother to suffer as they had once suffered. Cathy was willing to do anything it took to get her revenge...

If There Be Thorns
Chris and Cathy made such a loving home for fourteen year old Jory -- so handsome, so gentle. And for Bart, who had such an imagination for a nine year old.
Then the lights came on in the house next door. Soon he Old Lady in Black was there, watching them, guarded by her strange old butler. Soon she had Bart over for cookies and ice cream and asked him to call her "Grandmother."
And soon Bart's transformation began...
Fed by the hint of terrible things about his mother and father... leading him into shocking acts of violence.
Now while this little boy trembles on the edge of madness, his anguished parents await the climax to a horror that flowered in an attic long ago, a horror whose thorns are still wet with blood, still tipped with fire...

Seeds of Yesterday
After years of waiting for a life of happiness, Cathy and Chris are back at Foxworth Hall due to Bart's persistence. But even though it wasn't the "real" house they had once been locked away in, the feeling of tragedy comes back to haunt Cathy and her family. Bart's strange obsession with being better than Jory and torturing Cindy causes the family to be at constant war with each other. The never-ending battle that once began in the attic of Foxworth Hall has begun again.

Garden of Shadows
Olivia dreamed of a sun-filled love, a happy life. Then she entered Foxworth Hall... Long before terror flowered in the attic, thin, spinsterish Olivia came to Virginia as Malcolm Foxworth's bride. At last, with her tall husband, she would find the joy she had waited for, longed for. But in the gloomy mansion filled with hidden rooms and festering desires, a stain of jealous obsession begins to spread... an evil that will threaten her children, two lovely boys and one very special beautiful girl. For within one innocent child, a shocking secret lives... a secret that will taint the proud Foxworth name, and haunt all their lives forever!


Dollanganger - Main Characters
* Christopher Garland Foxworth Dollanganger - Son of Garland and Alicia
Husband to Corrine
Father of Chris, Cathy, Carrie, and Cory
* Corrine Foxworth Dollanganger Winslow Jackson - Daughter of Malcolm and Alicia
Widow of Christopher (Sr.)
1st wife to Bartholomew Winslow
2nd wife to John Amos Jackson
Mother of Chris, Cathy, Carrie, and Cory
* Malcolm Neal Foxworth - Son of Garland and Corrine
Husband to Olivia
Father to Mel, Joel, and Corrine
* Olivia Winfield Foxworth - Wife to Malcolm
Mother of Mel and Joel
* Garland Foxworth - 1st husband to Corrine
2nd husband to Alicia
Father to Malcolm and Christopher (Sr.)
* Alicia Foxworth - Wife to Garland
Mother to Christopher and Corrine
* Malcolm Neal Foxworth, Jr. - Son of Malcolm and Olivia
* Joel Joseph Foxworth - Son of Malcolm and Olivia
* Catherine "Cathy" Leigh Foxworth Dollanganger Dahl Marquet Sheffield - Daughter of Christopher (Sr.) and Corrine
1st wife to Julian Marquet
2nd wife to Dr. Paul Shefiield
3rd wife to Chris
Mother of Jory and Bart
Adoptive mother of Cindy
* "Chris" (Christopher) Foxworth Dollanganger Sheffield - Son of Christopher (Sr.) and Corrine
Husband of Cathy
Adoptive father of Cindy
* Carrie Foxworth Dollanganger - Daughter of Christopher (Sr.) and Corrine
Sister of Chris and Cathy
Twin sister of Cory
* Cory Foxworth Dollanganger - Son of Christopher (Sr.) and Corrine
Brother of Chris and Cathy
Twin brother of Carrie
* Dr. Paul Scott Sheffield - Widower to Julia
Father to Scotty
Adoptive father of Chris, Cathy, and Carrie
Husband to Cathy
* Henrietta "Henny" Beech - Housekeeper to Paul
* Bartholomew Scott Winslow - Husband to Corrine
Father to Bart (Jr.)
* Julian Rosencoff Marquet - Husband to Cathy
Father to Jory
* Georges and Marisha Rosencoff - Parents of Julian
* John Amos Jackson - Olivia's cousin
Foxworth butler
Corrine's 3rd husband
* "Jory" Julian Janus Marquet - Son of Cathy and Julian
1st husband to Melodie
2nd husband to Toni
Father to Darren and Deirdre
* Bartholomew Scott Winslow Sheffield Foxworth - Son of Cathy and Bart
* Cynthia Jane Nickols Sheffield - Adoptive daughter of Cathy and Chris
* Melodie Richarme Marquet - Wife to Jory (1st)
Mother to Darren & Deirdre
* Antonia "Toni" Winters Marquet - Wife to Jory (2nd)
Step-mother to Darren & Deirdre
* Darren & Deirdre Marquet - Twin brother & sister
Children of Jory & Melodie